View the Franklin County ordinance on litter control (Ord. No. 2016-06, 7-5-16).
Hours of Operation
Winter Hours  October 1 – March 31:  9am – 4:30pm
Summer Hours  April 1 – September 31:  7am – 4:30pm
Closed on County Holidays and weekends except for scheduled Amnesty Days on Saturday. Holiday Schedule; Martin Luther King Jr., Good Friday, Memorial Day, Independence Day, Labor Day, Veteran's Day, Thanksgiving Day & day after, and Christmas.
ALL SATURDAY AMNESTY HOURS 9AM -4:30PM (THIS INCLUDES AMNESTY THAT FALL DURING THE SUMMER DATES)
Landfill Tipping Fees
Household Waste - $65.00 Per Ton
Yard Trash -  $45.00 Per Ton
Construction & Demolition - $65.00 Per Ton
White Goods - $65.00 Per Ton
Regular Tires - $2.50 Per tire up to 4 tires
Large Tires - $5.00 Per tire up to 4 tires
Over 4 Tires - $250.00 Per ton
Sludge - $17.00 Per Ton
Seafood Waste - $17.00 Per Ton
ALL DEBRIS, REGARDLESS OF TYPE, SIZE, OR WEIGHT DELIVERED TO THE FRANKLIN COUNTY CENTRAL LANDFILL FOR DISPOSAL, MUST BE COMPLETELY ENCLOSED AND SECURED TO THE VEHICLE BY A TARPAULIN OR SIMILAR MATERIAL, OR A UNCOVERED DEBRIS DISPOSAL FEE OF $10.00 WILL BE ASSESSED PER LOAD.  THIS INCLUDES DEBRIS DELIVERED IN PLASTIC BAGS.  THIS ALSO APPLIES TO OUR AMNESTY DAYS.  IF ANY DEBRIS IS DELIVERED UNCOVERED ON AMNESTY DAY, THE CUSTOMER WILL STILL BE ASSESSED THE $10.00 FEE.
Right-of-Way Debris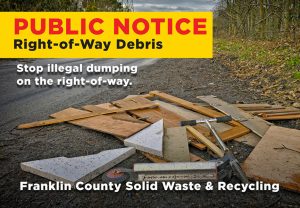 Franklin County's goal is to maintain clean and safe roadsides. The uncontrolled and unsanitary right-of-way disposal of debris by residents in unincorporated areas is strictly prohibited by Franklin County Ordinance No. 2016 06. Not only is the debris and trash placement against the law, it degrades the appearance of the county roads and adjacent properties. Any person violating any provision of this ordinance is subject to penalties. If you are in the incorporated area of the County, please contact City Hall for directions on the Right-of-Way debris pickup schedule and guidelines.
Allowable Right-of-Way Debris in unincorporated areas of Franklin County Yard trash limbs up to 18" in diameter, no more than 4 ft. long. Pine straw, pine cones, leaves, and grass clippings. It is prohibited for Contractors to dispose of debris on the Right-of-Way. Any other debris will be the owner's responsibility to dispose of properly at the Central Landfill. Please take advantage of the once-a-month Amnesty days (see schedule below).
Monthly Right-of-Way Vegetation Debris Pickup Schedule
Alligator Point, St James & Lanark Village 1st Week of the Month
Carrabelle 2nd Week of the Month
Eastpoint, St. George Island & Plantation Airport 3rd Week of the Month
Apalachicola 4th Week of the Month
Please place debris on the right-of-way next to your property at least one day prior to the trucks arriving in your area. Should you have any questions or concerns, please contact your friends at the Franklin County Solid Waste Department by calling (850) 670-8167 or email us.
Household Hazardous Waste Disposal
Help protect the environment and our health.  The Franklin County Landfill accepts, free of charge any Household Hazardous Waste during our normal operating hours.  Don't dispose of dangerous household chemicals in your garbage.  Product labels can tip you off to potential hazards.  Look for any of these words:  Pesticide, warning, Caustic, Poison, Acid, Danger, or Flammable. Household hazardous waste includes items like these:
Paint and paint thinners
Batteries (except alkaline/non/rechargeable)
Used motor oil
Antifreeze and brake fluid
Household cleaning fluids
Pool chemicals
Pesticides
Propane tanks
2023 AMNESTY DAYS SCHEDULE
Saturday, January 14th
Wednesday, February 15th
Wednesday, March 15th
Saturday, April 22nd  Sorry for the inconvenience these amnesty days are canceled.
Wednesday, May 17th
Wednesday, June 21st
Saturday, July 22nd
Wednesday, August 16th
Wednesday, September 20th
Saturday, October 21th
Wednesday, November 15th
Wednesday, December 13th
Accepted waste items are:
Yard Trash – limbs up to 18" in diameter, Pine straw & cones, leaves, and grass clippings.
No mixed trash such as bottles, cans, paper, etc..  Yard trash will be accepted every Monday of the month as well as Amnesty Days listed.
White Goods – Stoves, ranges, refrigerators, tin, iron, and any household or commercial items made of metal.  No automobiles or vehicles.
Tires – up to TWO car or small truck tires, with or without rims, per resident.  Tires from wholesale or retail businesses will not be accepted free of charge.
Construction & Demolition Debris – wood, bricks, sheetrock, windows, carpet, and any other debris which is brought in by the homeowner.  DEBRIS WHICH IS BROUGHT IN BY COMMERCIAL CONTRACTORS OR BUILDERS WILL NOT BE ACCEPTED AS AMNESTY.
Excluded items during Amnesty Days are household garbage, television, clothing, and restricted items already listed.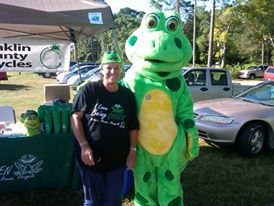 Recycling Program
The recycling sites are temporarily suspended at this time. You may bring aluminum cans and cardboard boxes to the Franklin County Landfill.
Cardboard Recycle Centers:
Apalachicola - Under the Bridge
Eastpoint - 24 6th Street or 210 State Road 65
St George Island - 24 West Bayshore Drive
Carrabelle - 101 Gray Ave
St James - 239 Crooked River Road