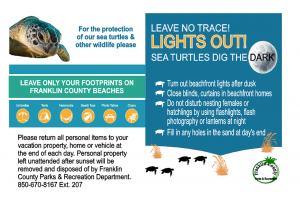 Leave No Trace Exemption Application
View the Franklin County ordinance on personal property left on public beach and beach access areas also known as "Leave No Trace" ordinance (Ord. No. 14-01, § 1, 8-5-14) or complete our online exemption application to become exempt from this ordinance.
The Franklin County Parks & Recreation seeks to enrich the quality of life of the citizens we serve by providing safe and accessible facilities and programs which promote physical, mental, and social activities.  We get people especially kids, outside, active, and connected to the community.  As we do this, there will be an increase in the wellness of our residents.  We accomplish this through:
Establishing, safeguarding, and restoring the parks, natural areas, public places, ensuring that these are accessible to all;
Developing and maintaining excellent facilities and places for public recreation;
Providing dynamic recreation programs and services that promote health and well-being for all;
Partnering with the community we serve.
Learn more about youth sports. Learn more information on county parks & boat ramps.
Have a question? Click here to contact us.
Red Tide Present 
Please visit the Florida Fish And Wildlife Research website for additional information on the locations where red tide has been found: http://myfwc.com/research/redtide/statewide/