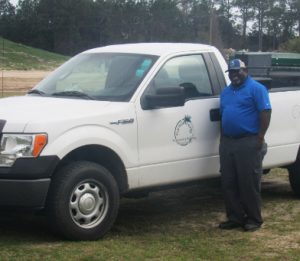 View the Animal Control Ordinance of Franklin County Florida (Ord. No. 2017-07)
Pets are an important part of our community and a big part of our everyday lives.  The officers of the Franklin County Animal Control Department are dedicated and strive each day to make this county a safe and friendly place to live.  Officers attempt to educate both pet owners and non-pet owners as well as enforce county and state laws dealing with domestic animals in our county.  Animal Control Officers respond to many calls each day that consist of trap requests, check welfare, running at large, injured animals, barking dog complaints, vicious animals, or animal bites just to name a few.  Our officers stay busy and make every effort to keep Franklin County pet owners and their neighbors happy and educated when it comes to animals.
Our business hours are Monday thru Friday 9 am – 4:30 pm.  Have a question? Click here to contact us.
We are available after hours, weekends and holidays for emergency calls only.  There is an on-call officer at all times who can assist in your emergency.  The service number to call for Animal Control is 850-670-4733.
Rabbie Alert for Franklin County
An animal with rabies could infect other wild animals or domestic animals that have not been vaccinated against rabies. All domestic animals should be vaccinated against rabies and all wildlife contact should be avoided, particularly raccoons, bats, foxes, skunks, otters, bobcats, and coyotes. Rabies is a disease of the nervous system and is fatal to warm-blooded animals and humans. The only treatment for human exposure to rabies is rabies specific immune globulin and rabies immunization. Appropriate treatment started soon after the exposure, will protect an exposed person from the disease.
The following advice is issued:
Keep rabies vaccinations up to date for all pets.
If your pet is bitten by a wild animal, seek veterinary assistance for the animal immediately and contact County Animal Services at 850-670-4733. Call your local animal control agency to remove any stray animals from your neighborhood.
Do not handle, feed, or unintentionally attract wild animals by leaving pet food outside, or garbage cans open.
Never adopt wild animals or bring them into your home.
Teach children never to handle unfamiliar animals, wild or domestic, even if they appear friendly.
Prevent bats from entering living quarters or occupied spaces in homes, churches, schools, and other similar areas, where they might come in contact with people and pets.
Persons who have been bitten or scratched by wild or domestic animals should seek medical attention and report the injury to the Florida Department of Health Franklin County at 850-653-2111.
The department works to protect, promote and improve the health of all people in Florida through integrated state, county and community efforts. Follow us on Twitter at @HealthyFla and on Facebook. For more information about the Florida Department of Health in Franklin County, please visit http://franklin.floridahealth.gov/index.html.